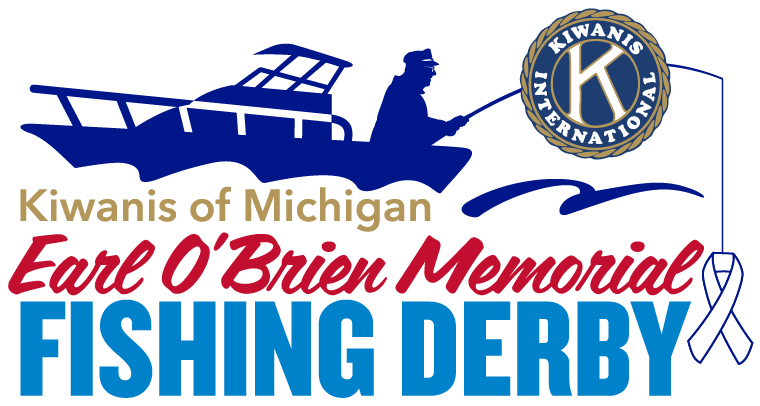 All net proceeds support child life programs at children's hospitals in Michigan.
Additional events available in June and July, by sponsor preference and/or Patient VIP need.
Derby sponsors are assigned to professional charter boats for a morning of exciting salmon fishing on Lake Michigan. Each boat holds up to six participants, and sponsors can invite anyone they wish — family, friends, employees or customers. Sponsors can also donate their boat to "VIPs", Very Important Patients of children's hospitals.
Sponsorships must be received and all boat participants registered no later than two weeks in advance of event. Boats are chartered and assigned based on paid sponsor request whenever possible.
Participants must register in advance — all fish tags, giveaways and morning refreshments will be on the dock for participants to pick up as they arrive. Boats depart at 6:00 a.m. and return at 12:00 p.m. Tagged fish are weighed and processed while lunch is served. A Grand Prize is awarded for the largest fish in Sponsor and Patient VIP categories, additional prizes are awarded by drawing fish tags.
Inclement weather: Our charter captains make the call in the morning if the weather is not suitable for their boat. Unless travel is unsafe, sponsors and participants should come to Chinook Pier—in the event their assigned charter cancels, participants may set up a different day and time to fish with their captain.
Eligibility to Participate and Win Prizes: Participants aboard boats may include only paid sponsors and their registered guests OR patient VIPs and their chaperones, plus designated reporters or photographers. All participants must register in advance and are eligible to receive giveaways. All paid sponsor guests are eligible to win prizes, including employees, volunteers, members, and friends or families of sponsors, beneficiaries, Kiwanis, charters or other organizations or entities. Patient VIPs age 17 and under are eligible to win prizes; adult chaperones are not eligible.
New for 2023: Sponsors and VIPs may request to fish on a separate day than the main event. Participants can request their favorite captain, arrange a day and time that works for them, or even fish from a completely different port! Participants will still be able to win prizes — available prizes will vary based on donations, some contests may be announced on Facebook and prizes mailed to winners after all charters have taken place.
[Click here for complete Fishing Derby rules]
---
Earl O'Brien — founder and "Grand Admiral"
Earl O'Brien (Sep 11, 1937 – Nov 4, 2019) spent his life creating opportunities for kids to enjoy sports and life, even if disadvantaged, disabled, or dealing with catastrophic disease. In 2005 Earl launched an offshore fishing tournament benefiting St. Jude Children's Research Hospital, and was instrumental in keeping the tournaments going and focused on the needs of hospitalized children through the years. He truly lived the Kiwanis mission of "improving the world one child and one community at a time." [Obituary, Grand Haven Tribune Article]
The video tribute below includes photos of Earl and the fishing tournaments through the years, narrated by Earl himself from an interview on the WGHN Sunday Morning Forum in 2011. We are proud to continue his legacy.
---
EOB Fishing Contact Form
Contact the EOB Fishing Derby Committee
---
Thank you to our
2022 SPONSORS and DONORS
Chinook Sponsors (including VIP)
Metal Flow Corporation
Muskegon Conservation Club
Atlantic Sponsor (VIP)
Rand Logistics "Marine Miracle Month" / Verplank Trucking
Coho Sponsors
Premier Finishing Inc.
Verplank Trucking Company
Seaver Finishing
Quality Tool & Stamping Co.
PVI Industrial Washing, Inc.
Patient VIP Donors and Sponsors
Centennial Securities Co.
Hansen/Balk Steel Treating Co. (Helen DeVos Children's Hospital Sponsor)
Michigan Anglers Association: In memory of Tom and Jan Hamilton.
Grace F. Stanton
Westwind Construction
Members of Hillsdale Kiwanis
Dee Hudson
Scott E DeBoer Memorial Fund
Prize and VIP Gift Donors
David Garland
Gary and Bev Surratt
Dr. Gary Robertson
Ellen Eich
Grace Stanton
West Michigan Nutrition
JW's Food & Spirits
Tlaquepaque Art and Decor
Grand Haven Vinegar and Oil
Kilwins Grand Haven
The Book Cellar
Food Donors
Shoreline Insurance
Tyson Foods
Biggby Coffee
Orchard Market
Flagship Restoration
Grace Stanton
Caledonia Kiwanis Club
VIP Accommodations
Best Western Beacon Inn
---
Thank you to our
2021 SPONSORS and DONORS
Chinook Sponsors (including VIP sponsorship)
Muskegon Conservation Club
Metal Flow Corporation
Patient VIP Atlantic Sponsor
Hansen-Balk Steel Treating Co.
Coho Sponsors
KPR of Allegan
Verplank Trucking Company
Premier Finishing Inc.
Quality Tool & Stamping Co., Inc.
Steve and Sandy Moreland
Patient VIP Coho Sponsors
Active Manufacturing Corp.
Milo & Abby DeVries
Centennial Securities Co.
NOCH Medical Staff
Additional Patient VIP Donors
Westwind Construction
Scott E. DeBoer Memorial Fund
Shape Corporation
R.A. Miller Industries, Inc.
Consumers Energy Foundation, Ryan Schmoekel
BMC Bil-Mac Corporation
Diane House
Prize Donors
Freedom Boat Club of West Michigan
Mercury Store & Lock
Magnum Coffee
M. Gary Robertson, MD
Sandy Katt
@Home Realty, Steve Hass
Sarah Vanelzelingen
Sweet Temptations
Ellen Eich
Coldwell Banker Schmidt, Melissa Heyer
Food and Accommodation Donors
Best Western Beacon Inn
Shoreline Insurance
Tyson Foods
Orchard Market
Flagship Restoration
Tri-Cities Kiwanians
---
Thank you to our
2020 SPONSORS and DONORS
Angel+ Donor
Rand Logistics "Marine Miracle Month" / Verplank Trucking
Star Sponsors
KPR of Allegan
Premier Finishing, Inc.
Verplank Trucking
Steve and Sandy Moreland
Suburban Inns
Silver Sponsors
Midwest Juice Inc. of Michigan
Patient VIP Sponsors
Centennial Securities Co.
Hansen-Balk Steel Treating Co.
Michigan Anglers Association
NOCHS Medical Staff
Milo and Abby DeVries
Scott E. DeBoer Memorial Fund
BMC Bil-Mac Corporation
Donors in honor of Earl O'Brien
Midwest Juice Inc. of Michigan
Peter Beukema
Patient VIP Donors in honor of Tom Hamilton
Amanda Dyer
Barry Matthews
Raymond Schinler
Food, Prizes and Other Contributions
Shape Corporation
F. Martin and Dorothy A. Johnson Family Fund
Shoreline Insurance Agency
Terrill Financial Group LLC
Oakes Agency, Inc.
Ellen Eich
Roger and Sandra Katt
Rick and Karen Meads
---
Thank you to our
2019 SPONSORS and DONORS
Double Angel+
Metal Flow Corporation
Angel+ Donor
Rand Logistics "Marine Miracle Month" / Verplank Trucking
Double Star+
KPR of Allegan
Double Hope
Suburban Inns
Hope Sponsor
Hansen-Balk
Star Sponsors
Automatic Spring Products Corp
Premier Finishing, Inc.
Verplank Trucking
PVI Industrial Washing, Inc.
Quality Tool & Stamping
Lily Products of Michigan, Inc.
Silver Sponsors
Midwest Juice
Dr. Doublestein
Patient VIP Sponsors
Active Manufacturing
Global Concepts Enterprise, Inc.
Centennial Securities
Milo R. DeVries
North Ottawa Medical Staff
Muskegon Conservation Club
Michigan Anglers Association
Westwind Construction & Development
Dr. Doublestein
Scott DeBoer Memorial Fund
Dyna-Plate, Inc.
Donors
Shape Corp.
BMC Bil-Mac Corporation
Michigan Anglers Association
Roger and Sandra Katt
Food Donors
Arturo's Tacos
Tyson Foods
The Cookie Lady
Shoreline Insurance Agency
Wesco
Panera Bread
Orchard Market
Terrill Financial Group, LLC
Sweet Temptations
Old Boys Brewhouse
Roger and Sandra Katt
Preferred Auto Dealerships
Taco Bell (sporks!)
Tri-Cities Kiwanis Members
Additional equipment support from:
Elks Lodge # 1200
Eagles FOE 925
Flagship Restoration
Compass Design
Prize Donors
Sea Flea Charters
Reel Action Charters
Lakeshore Law & Mediation Center PLC
Centennial Securities
Magnum Coffee
Hitman Charters
Tammy Too Charters
Jay's Sporting Goods
Chicago Title
Best Western Beacon Inn
Melissa Heyer
Chemical Bank
MACkite
Porto Bello
Tri-Cities Kiwanis Members
Accommodations for Patients
Best Western Beacon Inn